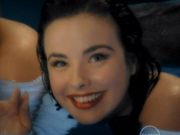 She is only 14, yet a top notch stylist. Her actual name is Watera Deep but she uses the name Water Stinn in the Capitol.
She used to live in district 4 and attend Clothesland design school in district 1 until she, 9 other girls and boys and her BFFs, Trea Loxes and Coal Black became stylists. Later, she fell in love with a district 12 tribute and Coals younger cousins BFF, Lucas Bolt. She knows he might not make it back alive.
Personality/Looks
Edit
Watera is a thoughtful, shy romantic girl with a gold heart and kind intentions. She would never hurt anyone or lie on purpose. She is also quite pretty with long, flowing, curly brown hair and bright happy blue eyes. She has a flawless completion and the only Capitol mark is that she wears red lipstick.
Chariot costumes
Edit
Relationship with tributes
Edit
Oath: She spent all the time with the others and never got to know him.
Fleur Splith:She liked Fleur enought, but less than Ciaria
Jordan Trident: She liked him, yet didn't really know him
Ciaria Ella: She liked Ciaria the best, and spent all her time with her
Audience approval
Edit
COMING SOON.